Borovets, January 12: Cosmopolitan Winter Fest 2019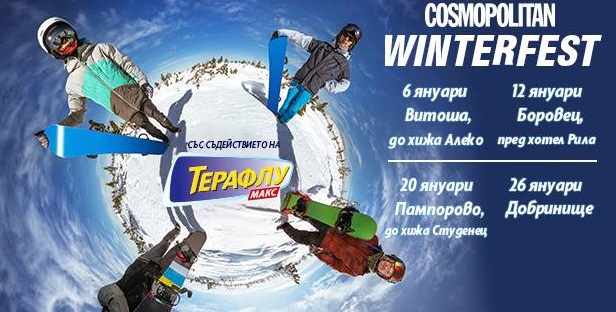 For another year in Borovets will be held Cosmo Winter Fest, with the support of THERAFLU MAX - Power to feel good. This year includes a mobile party platform on Red Bull - ALEKO - equipped with everything needed for a glamorous party on the snow!
There will be many games like snowball, shooting and spectacular bowling.
`Alive Multivitamins` will support you to show skill in the hockey game, and `Bonduelle` will have fun with a mascot doll that will provoke you to play basketball despite the snowy conditions.
With `Pringels` and `Caprice` games you will experience new flavors. There will also be a wheel of luck organized by Metaxa. You will get a snap or a warm hot drink directly on site For car lovers, anyone who wishes - will be able to make a test drive on snowy roads with the new Ford Eco Sport!
And if you just want to sit down and enjoy the festive day - there will be prepared a great Hot Zone for complete relaxation!
More information on the Facebook event page.
The start of Cosmo Winter Fest is this Saturday from 10:00 and will continue at least until 17:00 in Borovets!
24/7 Customer Service


Do you want to travel hassle free at sensible prices ?
If yes, book your airport transfer right now!
Customer support service operates 24/7!