Spice Music Festival Burgas 2020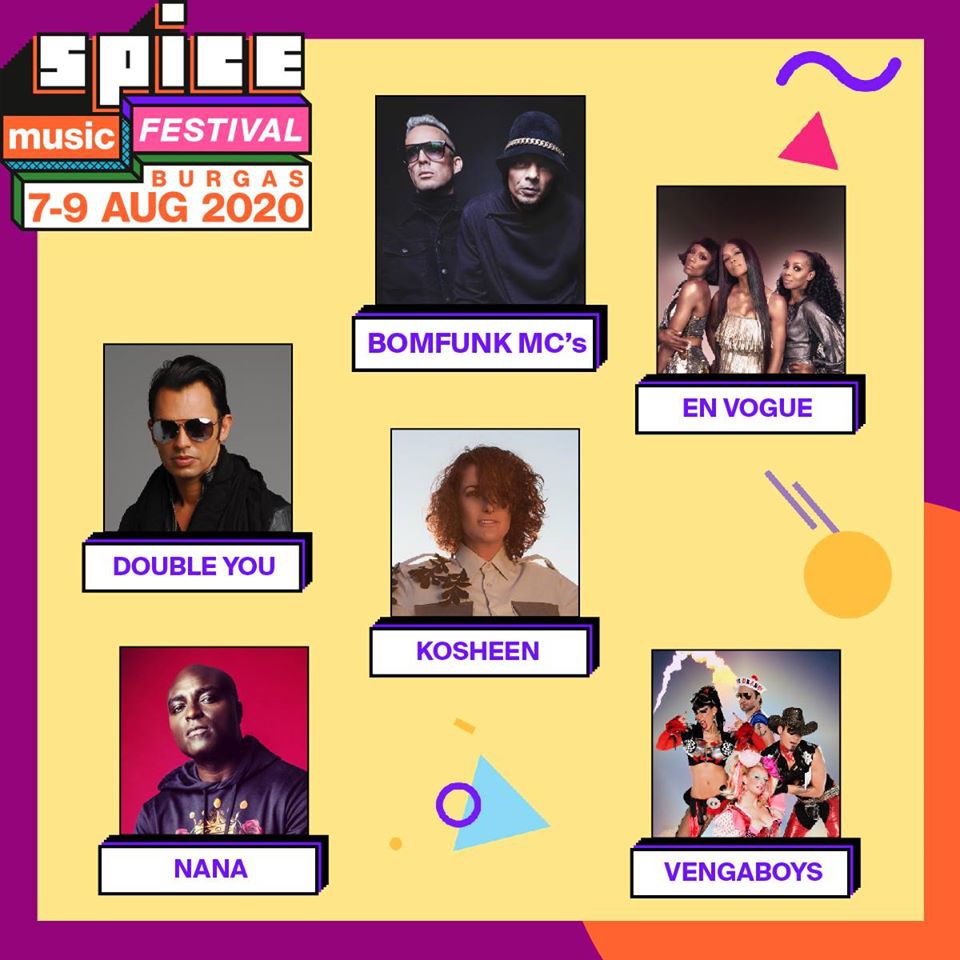 Bomfunk Mc`s, En Vogue and Kosheen are among the biggest stars to participate in the Spice Music Festival Burgas 2020. Between 7-9 August on the scene of the Port of Burgas, you can also see Nana, Vengaboys, Double You, C + C Music Factory, Sonique and many more stars from the 90`s
Bomfunk MC's and En Vogue on Spice Music Festival Burgas 2020
After the great success of the Spice Music Festival Burgas 2019, the organizers promise an even bigger show for fans of pop and funk music this year. Undoubtedly, Bomfunk MC's and the legendary En Vogue are two of the biggest names in the SPICE Music festival 2020. Both formations are coming to Bulgaria for the first time. En Vogue is one of the most famous American women's bands of all time. For 30 years, En Vogue has held the bar of women's formations in the music industry high. Their success is measured in millions – from more than 20 million copies sold of their first album, to over 25 million views for their hits on Youtube! Today, the En Vogue ladies are not only one of the queens of pop music, but also real legends that we will be able to see on the Bulgarian scene for the first time! SPICE Music Festival 2020 is your unique chance to remember their hits: Free Your Mind, Lets Let Go, Whatta Man and more.
Bomfunk MC's are the second big surprise in the SPICE Music festival 2020 program. The Finnish hip-hop group reunited in 2018 after a 13-year music lull and is now ready with new tracks and a brand new remake of their biggest hit Freestyler. Their show of SPICE Music festival 2020 will be an hour and fans will be able to hear all their well-known hits from the late 90s. In addition, a dance show and a DJ will be included in the performance of the second festival night.

Kosheen, Nana, Vengaboys, Double You are also coming to the festival in Burgas
With an one-hour concert and a live band in the program SPICE Music festival 2020 will include British Kosheen, which after its appearance in the late 90's they took the music charts with unforgettable hits such as Catch, Hide U and others. The surprises don't stop here! What would be a party of the 90s without the favorite of the Bulgarian audience Nana? You don't have to imagine him, because he too arrives in Burgas to raise the coupon degree with hits like: Lonely, Remember the time, He's Comin 'and more. The Dutch Euro-dance formation Vengaboys, whose hits warmed up every party of the 90s, will also sound the Burgas Bay with their hits - Boom, Boom, Boom, Boom !!, We like to Party, Shalala lala. Another emblem of the 90s - Double You - will also participate in the festival. Led by William Nerein, they will sing us the unforgettable "Please decide go", "Run to me" and more.
Spice Music Festival 2020 dates, stages and tickets
This year the festival will be for three days - 7, 8 and 9 August 2020 and will again be held on the territory of Burgas Port. The festival area will be larger, the stage and the overall choreography - even larger. We remind you and other artists who will arrive for the biggest party of 2020 in Burgas. These are: C + C Music Factory and Sonique, mambo legend Lou Bega, Corona featuring Brazilian diva Olga de Susa, German hip-hop C-Block, Spanish Las Ketchup, Reel 2 Real ft. The Mad Stuntman, who will also be seen for the first time on the festival stage in Bulgaria, Rozalla with "Everybody's Free", the Italian dance group Black Box, LayZee aka Mr.President, who will bring us back in 1996 with "Coco Jamboo" and the British duo Maxx, which is back on stage again in 2019. As well as the first edition of SPICE Music Festival 2019, some of the most famous Bulgarian performers will also take the stage in August 2020. However, the organizers say that they are preparing a big surprise for the fans of Bulgarian music!
Tickets for SPICE Music Festival 2020 can be purchased from EpayGo and online at EasyPay throughout the country. After 01/01/2020, the three-day ticket is BGN 110. From January 2020, one-day tickets are also available for sale at a price of BGN 50 per day. For the biggest fans of the music of the 90's the organizers also provided VIP tickets, which are limited in number and are currently priced at 120 BGN. VIP ticket gives access to specially build VIP platforms and VIP bar, faster access to the festival area and separate sanitary facilities. You can buy VIP tickets from here: bit.ly/spice2020-epayGO"

How to get to Spice Music Festival 2020
Transfer Bulgaria Group organizes both individual and group transfers for music fans who want to attend SPICE Music Festival 2020. Fast and secure
transfers from Burgas Airport to Burgas Port
, where SPICE Music Festival 2020 will take place from 7-9 August.
24/7 Customer Service


Do you want to travel hassle free at sensible prices ?
If yes, book your airport transfer right now!
Customer support service operates 24/7!