Ugly scandal in Sunny Beach! A businessman spat a Russian woman who was with a child in a baby-carriage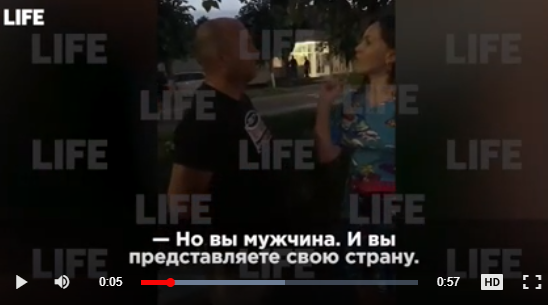 Sunny Beach. The owner of a restaurant in Sunny Beach spat Russian woman with a child in a baby-cart. Olga M. for the first time resting with his family in Bulgaria, write media. After her husband had suddenly returned home, she quarreled with the owner of the restaurant who told her that hates Russia.
Olga, her child in a cart, and her girlfriend were walking around Sunny Beach. They tried to go through the Coco Loco Bar-Grill, which had tables on the sidewalk. Otherwise, they would have to go straight to the street. At that moment, according to the story of the young woman, a man approached her and threatened and insulted her. When Olga asked him to calm down and just allow her to pass, the man grabbed her hands and started spitting her into the face.
"He started to grab my hands, I got rid of him, and he started screaming," Get out of here. "I asked him to let me go, and he spit in my face, sending me all sorts of racist insults," says Olga. "The video shows how my companion is trying to protect me and starts talking to him in English that he can not have such behavior.
And he told us: "You are nasty people, bad Russians! Only Ukrainians can sit in my establishment, I do not respect the Russians," added the Russian woman. After this incident, Olga turned to the Consulate of Russia, which in turn made her appeal to the local police. But after that, no one had contacted her, she says.
This is not about nationality. It's not about Russia, Ukraine, Bulgaria, the EU or the United States. This is about human education and the lack of elementary human morality.
At Transfer Bulgaria Group, you will only receive courteous attitude and high professionalism at every stage of your service. Secure and comfortable transfer from Bourgas airport to Sunny Beach. Call us NOW!
24/7 Customer Service


Do you want to travel hassle free at sensible prices ?
If yes, book your airport transfer right now!
Customer support service operates 24/7!