The northern beach in Sunny Beach is already with lifeguards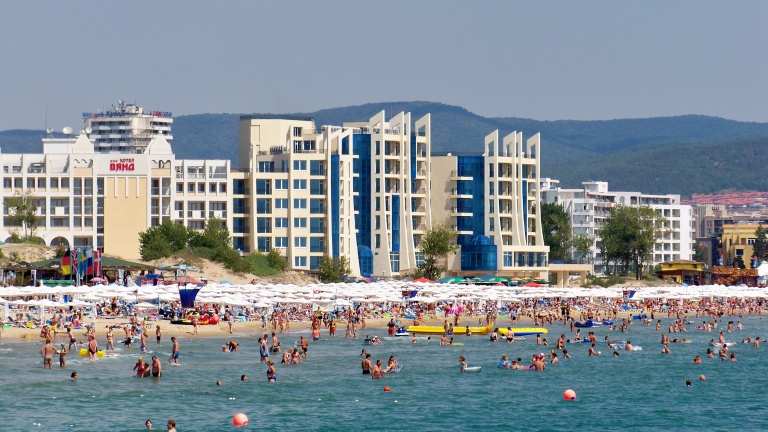 Sunny Beach. Mobile pairs of lifeguards have started work on the northern beach in Sunny Beach and are already welcoming first tourists, the beach maintenance company reported. There, for several days, they have a daily run, even though the season is not officially opened. Their dues will continue until 31 May. Day after, the guards will be in full line on the beach.
Umbrellas and lounge chairs are already set on the north coast, informed by the Bulgarian National Radio. Most are brand new. The sand is leveled, dewormed and cleaned. From June 1st, when the season is officially opened, there will be a medical center with the necessary equipment and a resuscitation team at the beach.
At several places on the beach there are showers, near them will be put the dressing rooms for the tourists. From the first day of July, rescuers will begin full-time work and serve 22 rescue posts. From 08.00 to 18.00 hours will be the working hours of the marine and health professionals who will take care of the comfort, safety and health of the holidaymakers.
The umbrellas and the hire of a sun lounger remain unchanged from last year's prices. There are zones for free and paid beaching. Beach management reported that live guard is also provided across the strip. The staff will be keeping an eye on the order and the peace of mind throughout the summer. For the first time along the entire strip, three-lamp pylons were installed to illuminate the sand during the night. Wooden paths are also being installed to make it easier for mothers with wheelchairs and disabled people to access. From June 1 on the northern beach will also work all the attractions such as jets, water parachutes, bananas and others.
The northern strip will be a guarded area secured with medical care and water rescue until September 30. The sand will then be cleaned manually and mechanically.
Visit the northern beach of Sunny Beach with Transfer Bulgaria Group. The company provides a fast and comfortable transfer from Bourgas airport to Sunny Beach.
24/7 Customer Service


Do you want to travel hassle free at sensible prices ?
If yes, book your airport transfer right now!
Customer support service operates 24/7!