It`s possible that the "Smokinia" dune will be restored, as is done in France and Spain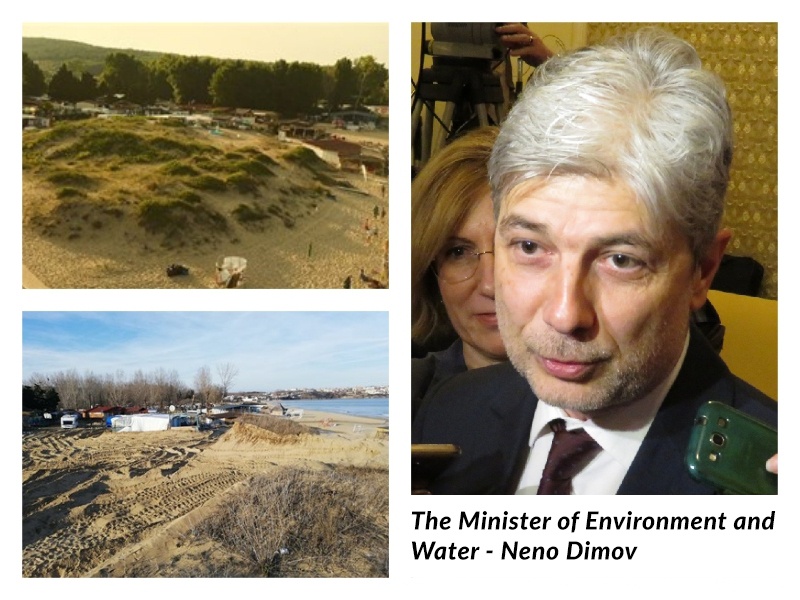 A few days ago an expert from the Ministry of Tourism explained that there is currently no clear text in the Act on the Structure of the Black Sea Coast (ASBSC), according to which the destroyers of the camping dump "Smokinia" should be punished. This gave us reason to seek an opinion on this issue, the Minister of Environment and Water Neno Dimov, who considers that the restoration of the natural entity is one of the possible sanctions.
- Minister Dimov, from the Ministry of Tourism, said that there is currently no specific text in the ASBSC for penalizing the demolition of the dune. There was some general text and the sanction could fall into court.
- First of all, you know the prosecution has dealt with the case. Ie. here we are talking about criminal proceedings. The principle is for a violation to enter the heavier punishment. From this point of view, after completing the activities of the prosecutor's office - depending on how they will be completed, the Ministry of the Environment will take or not the appropriate actions. Ie. if we do not have a heavier punishment, we will impose a purely administrative sanction that we can do under our legislation. And as far as the Black Sea Territories Management Act is concerned - I can not comment on it.
- By what law can the guilty be punished?
- Environmental legislation may be subject to an administrative sanction and, if necessary, to recover, as far as it is, of course, possible. Because it is an entity that has formed over an extremely long period of time. As far as I have information from our experts, countries such as France and Spain have made a similar type of refunds – off course not what nature has created. But this should rather serve as an event - it is clear that it can not be destroyed in this way and that any destruction has its consequences.
- Recently, there was an opinion that the dune was irretrievably destroyed. Does this mean that it can not be restored?
- I just answered. Naturally, you can not do for a few years what nature has been doing for millennia. But the restoration, as it`s done in France and Spain, is possible.
- Ie. can or can not?
- I think I very clearly answered. What nature does - can not; but what man does - can.
(The interview was published on the site www.flagman.bg)
Travel safely and comfortably with Transfer Bulgaria Group, which will provide you with a transfer from Bourgas Airport to Sozopol.
24/7 Customer Service


Do you want to travel hassle free at sensible prices ?
If yes, book your airport transfer right now!
Customer support service operates 24/7!