The world-famous musical "Singin 'In The Rain" arrives in Bansko in early January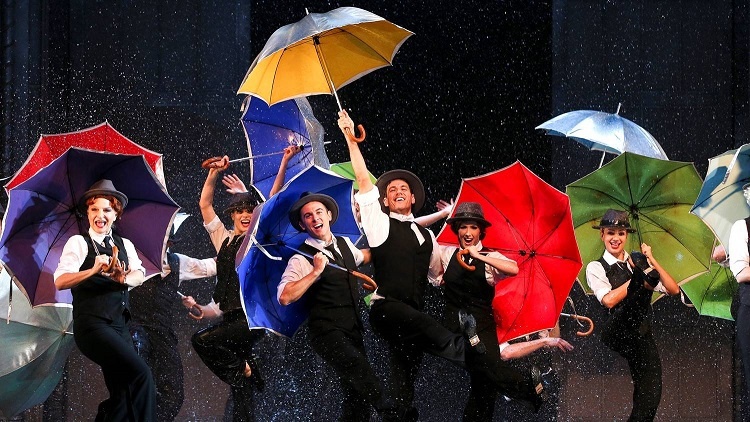 On January 11 and 12, 2019, at 6 pm in Chitalishte "N. Vaptsarov "- Bansko will host the musical "Singing in the Rain". The spectacle of the Hollywood film with the same name is premiere for Bulgaria. Starring the legend of the Bulgarian music stage Orlin Goranov, as well as the actor Marian Bachev.
Directed by Boris Pankin, "Singing in the Rain" comes to life on Bulgarian stage under the motives of eternal MGM`s film. The performance of the State Opera of Varna, under the baton of Stratsimir Pavlov is a romantic and nostalgic deja-vu for the silent era and of course, love. In the lead roles of movie star Don Lockwood and his friend Cosmo Brown, who first tangles and then unfolds the plot intrigue, shines Orlin Goranov and Marian Bachev. Extremely artistic are the contenders for Don Lockwood's heart - Srebriana Sokolova and Lilia Ilieva, in the roles of his film partner, the capricious Lina Lamont and the talented dramatic actress Kathy Seldon, who eventually not only shifts Lina from the screen but also earns the love of the movie beauty.
And as in any movie, here too, the entourage of directors, assistants, and other obligatory staff are impressive. It is not easy for the producer RF Simpson, performed by comedic actor Plamen Georgiev from Varna, a teacher pronouncing Carmichael, in whose image the singer Neycho Petrov - Reggie deserves a diploma for a speech therapist.
Opera, dramatic and ballet artists sing, dance, and play so organic from the beginning to the end of the show that it is difficult to guess which artist from which art scene is coming. Choreographers are Boryana Sechanova and Mariana Krancheva. Stage design is done by Ivan Tokadzhiev. The costumes are made by Anna-Maria Tokadjieva. Multimedia is taken care of by the "Space Solutions Office".
EXPECT the Varna State Opera in Bansko and in March with its latest ballet performances "Cinderella" on March 21, 18:00 and "Swan Lake" on March 22, 6:00 pm, Chitalishte "N. Vaptsarov".
Reservations and ticket sales:
Visiting Information Center, tel .: 0749 88580/0888 251095
Chitalishte "N. Vaptsarov "- Bansko, tel .: 0882521052, 0885402424 (from the 9th of January, at the chitalishte fund).
24/7 Customer Service


Do you want to travel hassle free at sensible prices ?
If yes, book your airport transfer right now!
Customer support service operates 24/7!