"There are no dunes destroyed and there is no violation in the Shabla lake," said Minister Neno Dimov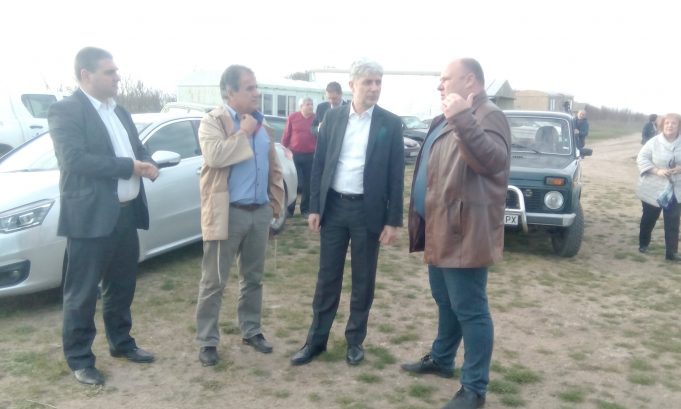 Shabla. At the order of Prime Minister Boyko Borisov, Minister Neno Dimov urgently arrived in the protected area "Shablensko Ezero" to check on the spot the signal of the Bulgarian Society for the Protection of Birds for draining the lake and the danger of migration and nesting of dozens of species of waterfowl.
"We are right in the place that is open to drain some of the lake's water. In practice, this has been done for years and this activity is not inconsistent with the Management Plan. Following the change in 2016, in the event of an emergency, it is necessary to reduce the level of the lake. This measure is observed," - Minister Dimov told journalists from Monitor. According to him, when the change to the Management Plan was made, the Institute of Fisheries Resources was consulted, saying that such activities should be completed before 1 April in order to restore the lake, in view of the breeding season fish.
"By the way, this also applies to birds. Permits for carrying out such activities should be requested by the Regional Inspectorate no later than March 15, and this is the second half of the February, "Dimov said.
The high level of the lake has flooded certain properties around, including the basements of the two luxury villas on its shore, which fall into the territory of the government residence. The water there has reached 40 cm, said the manager of the residence Kralio Kralev. There are no dunes destroyed, Minister Dimov was categorical.
As far as a fire occurred on March 4, 5 decares of protected area were destroyed, the rest of the area was out of it. A signal has been filed with the Prosecutor's Office. The lake is starting to resume. "You see that the water is clear now, and before the discharge was muddy. So that this process is acting on the lake, "said Minister Neno Dimov.
Visit the unique Shabla Lake with Transfer Bulgaria Group. Fast and secure transport from Varna airport to Shabla.
24/7 Customer Service


Do you want to travel hassle free at sensible prices ?
If yes, book your airport transfer right now!
Customer support service operates 24/7!