An iconic restaurant in Burgas welcomes guests again after extensive renovation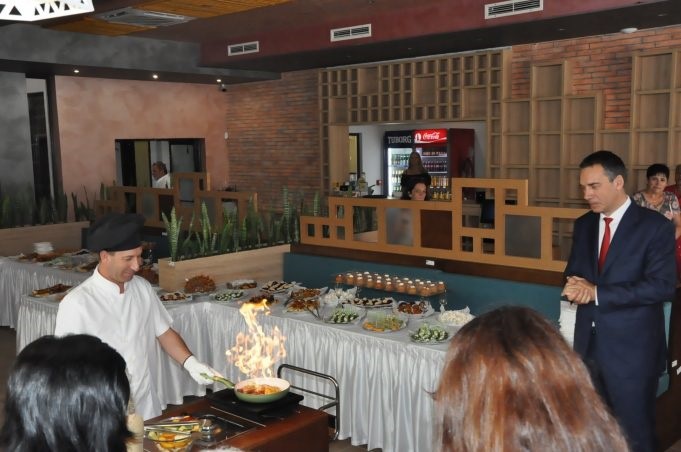 Burgas. The iconic Mladost Restaurant in Burgas will welcome its guests in a refined atmosphere and excellent cuisine.
The restaurant is part of the renovated training and production complex of the Professional High School of Tourism "Prof. Assen Zlatarov", which the Municipality of Burgas completely reconstructed under the project "Improvement of the quality of vocational education through modernization of the educational infrastructure in six vocational high schools in Burgas", procedure "Support for vocational schools in the Republic of Bulgaria".
The modern base has a classic restaurant with a capacity of 116 seats, an outdoor terrace with 60 seats and a fast food restaurant for 70 visitors. Special access for people with disabilities is provided. In the halls is installed LED lighting, air conditioning systems maintain a comfortable temperature in the dining areas.
The renovated base has a hot water system, which is powered by 5 solar panels located on the roof of the building. The kitchens are equipped with new modern appliances and tools, thanks to which they can prepare all kinds of dishes and recipes.
One of the innovations in the training and production complex is the conference hall with a capacity for 60 people. It is equipped with a large screen and various systems that allow seminars and presentations.
The renovated base will train 1000 children from the Professional High School of Tourism "Prof. Dr. Assen Zlatarov "- Burgas. In practice, they will learn the subtleties of restaurant and cooking from their teachers.
At the opening of the complex high school graduates demonstrated their skills and surprised the guests with interesting and sophisticated dishes.
"Highly competitive business and tourism personnel will be trained in this base in the Burgas region and Bulgaria. Cooking and quality food will give us a chance to get out of the summer tourist season and expand the scale of tourism in our region. I am convinced that this base will attract more children who will want to enroll in the High School of Tourism because it has the highest standard of education, "said Mayor Dimitar Nikolov.
"We are proud to be involved in the implementation of such a landmark project, which affirms Burgas as an important center for business, education, culture and tourism. The project is a message that the Municipality of Burgas invests in vocational education. Through it, we are looking for a successful approach in the training and implementation of our staff, "said PGT Director Silvia Pehlivanova.
Visit the "Mladost" Restaurant together with Transfer Bulgaria Group. The best transport & taxi company in Bulgaria. Transfers from Bourgas Airport to every part of the city. Transfers from all airports in Bulgaria and the neighboring countries.
24/7 Customer Service


Do you want to travel hassle free at sensible prices ?
If yes, book your airport transfer right now!
Customer support service operates 24/7!