Concert of Ishtar in Plovdiv (24.11.2018 – S.I.L.A. hall)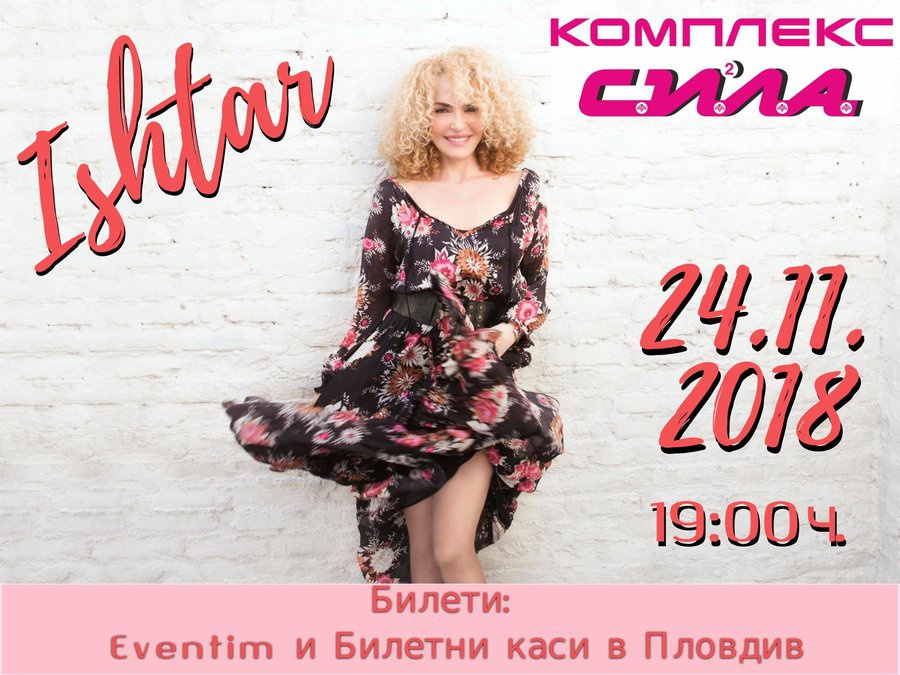 Ishtar, together with his band Alabina, returns in Plovdiv after seven years with a great concert on 24 November 2018. The show will be only in the "City of the Knolls". Ishtar will appear on stage with a band of 12 musicians and will show once more to the Bulgarian audience that she is deservedly considered to be the "Queen of Ethno Music".
Ishtar comes to Plovdiv for the second time. At the first concert in 2011, the audience in the Ancient Theater remained fascinated by the talent of a world-famous singer of Jewish origin. Come on November 24, 2018 at 19:00 and hear star's biggest hits in live.
Ishtar has been on the music scene for several decades, has sold several million albums and numerous world hits including "Last Kiss", Habibi (Sawah), "C'est La Vie".
The real name of the talented performer is Eti Zah. She was born on November 10, 1968, in Kiriath Ata, to Haifa, Israel. Her mother was an Egyptian, and her father was a Moroccan, both of whom were Jews. Ishtar begins to sing at age 14 and continues, even during his service at the Israeli Defense Force. He chose the name Ishtar (the Mesopotam goddess of love and war because her grandmother called her Esther, but because of her Egyptian accent it sounded like Ishtar.
In 2012 he released his latest album, "7", with 12 songs, the first of which is "Mi Amor". One of them is the Bulgarian ethnic song "Oblache le Byalo" (Cloudy White), the unofficial anthem of Bulgarians abroad. In 2015 Ishtar recorded a duet with Bulgarian singer Tsvetelina Yaneva, entitled "Music in Me".
Organize by S.I.L.A. Complex - Plovdiv. Tickets at Eventim and Biletni Kasi (Tickets desks) in Plovdiv.
24/7 Customer Service


Do you want to travel hassle free at sensible prices ?
If yes, book your airport transfer right now!
Customer support service operates 24/7!