The ritual of "Ice Horo (Dance)"of Epiphany in Kalofer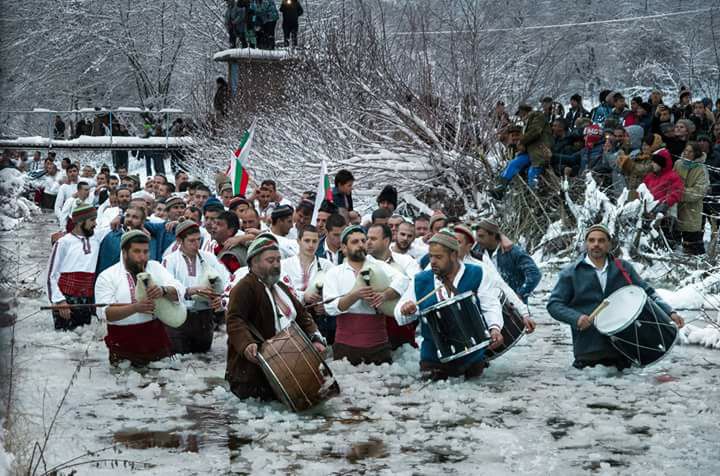 During the Ottoman slavery, the Kalofer Men's Horo in the icy waters of Tundja had the purpose of preventively taking the fear of the surrounding villages. Today, there is no Ottoman Empire, there is no the rebels of the Kalifer Voyvoda, but there are other challenges facing the Bulgarian people and the state every day.
Bulgarian self-awareness is still alive, but it needs to be strengthened. Fortunately, there are still bold and determined men who play this "Men Horo" in the icy waters of Tundja under the sounds of bagpipes and drums!
The ritual, which now attracts thousands of tourists to Kalofer, has been persecuted and forbidden for years. But it survives. Both during the Ottoman rule and during communism.
"The cold is not felt. Feeling the connection with God! This ritual purifies you and remains only the faith of God! "This feels Nedyalko Tonev from Kalofer each time he runs into the icy waters of Tundja for the sacrament, called by the local Male Horo. And for a wide audience known as the Ice Horo. The ritual is performed from time immemorial in Epiphany in the sub-Balkan town.
The ritual is linked to one of the greatest Christian feasts. On Epiphany, the Orthodox Church celebrates the baptism of Jesus Christ by John the Baptist in the Jordan River. At the moment of baptism the sky "opens". The holy spirit descends upon Christ in the form of a dove, and a voice spreads from heaven: "This is my beloved Son, in whom I am well pleased."
Nowadays, "Men's Horo" is not just a worship of ancestors and the preservation of centuries-old tradition. Demonstration of the strength and prowess of healthy and proud men united in a brotherly chain, caught for hands singing folk songs. These are the Bulgarian heroes who keep the spirit of Botev and Levski, and they will be tomorrow's guardians of Bulgaria. In the ice horo the boys become men.
An ancient Bulgarian custom that must be seen live to be real. Its raw beauty is something that will leave lasting memories in your mind, whether you are a Bulgarian or a foreigner.
Welcome to Kalofer on January 6th!
24/7 Customer Service


Do you want to travel hassle free at sensible prices ?
If yes, book your airport transfer right now!
Customer support service operates 24/7!