The construction of St. St. Constantine and Elena is completely legal, according to the DNSK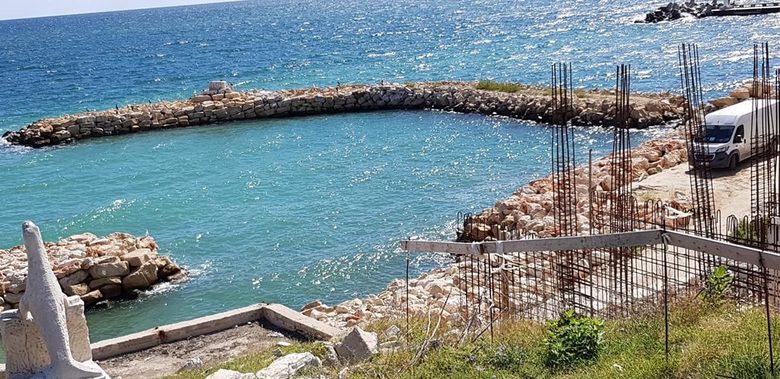 Is anyone surprised? There is no violation of the construction of the hotel with an outdoor swimming pool in St. St. Konstantin and Elena resort near Varna. Everything is legal and legitimate, according to the chief of the DNSK (National Construction Control Directorate) Ivan Nestorov.
It all started after a Facebook user posted the account with a video with an anouncement: "Сбогом хубави плажчета"(Goodbye beautiful beaches).
The permit for the construction of the hotel was issued by the chief architect of the Municipality Victor Buzev on February 16, 2018. It came into force a month later - on 12 March.
"About the site was issued legally, lawfully building permit, based on approved technical documentation. In place nor will there be new beach nor built up the existing sand beach." This was said by the head of the DNSK, arch. Ivan Nestorov at a briefing in the city after a spot on site in the complex.
Regarding the height of the building from the beach, he said that also could not find a violation as texts in the law allow it to be such. "From the street, the building is two-storey, with a tower that I, as an architect, does not perceive, but it has been proposed by the designers as appropriate."
Regarding the construction of the bridge, which is performed in parallel with the building of the hotel, arch. Nesterov said that also has a building permit. This question, however, deals Maritime Administration. "Towards the so-called" Bridge of Sighs ", which is now being restored, there is a concrete approach, elevator access is also planned. It can play the role of boat wharf, "said arch. Nesterov.
We recall that Nestorov himself had a scandal after the site for investigative journalism "Биволь" published a paper asking how the architect had a cozy apartment on the first line in Sozopol?!
Nestorov defended himself by saying that the apartment was his late father-in-chief, Veselin Tzolevski, and according to "Биволь" in 2002 Tsolevski took an apartment of 68 square meters on the first line in Sozopol for 17 300 leva by BDK Ltd., and in 2010 he exchanged it for another apartment, again on the first line and with 30 square meters bigger, owned by BDK Invest. Accordingly, is there a conflict of interest on the agenda?
The interest of Transfer Bulgaria Group is to transport as safely as possible, quickly and comfortably passengers and cargo from Varna Airport to Sozopol, from Varna Airport to St. St.Constantine and Helena, as well as to any other resort or destination on the territory of Bulgaria and the neighboring countries.
24/7 Customer Service


Do you want to travel hassle free at sensible prices ?
If yes, book your airport transfer right now!
Customer support service operates 24/7!