August 16th: The biggest summer cinema in Burgas opens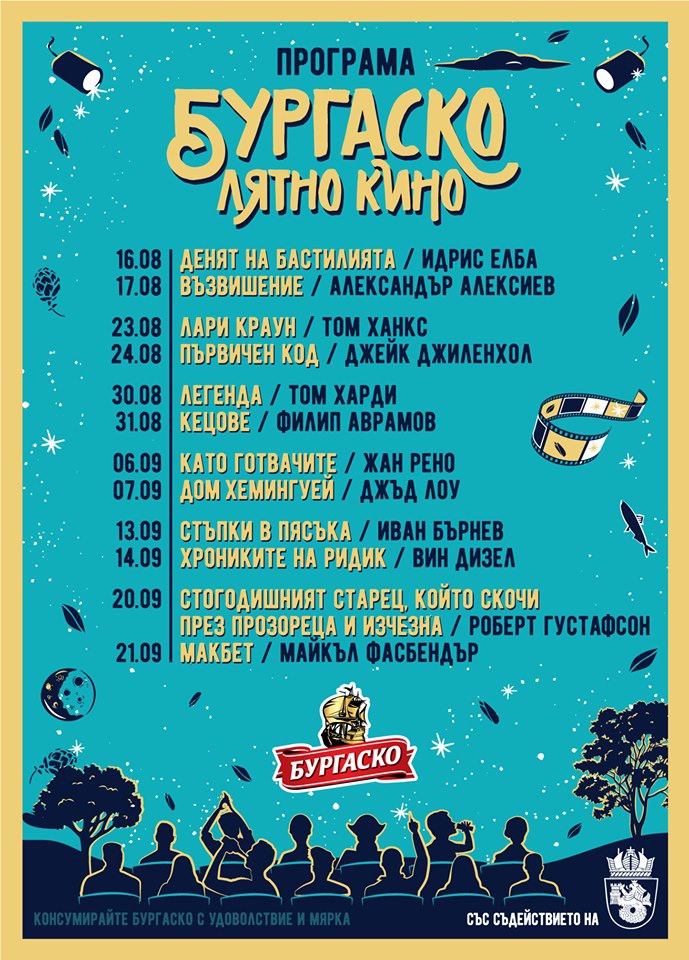 Burgas. The free summer cinema under the stars will gather the residents and guests of Burgas from August 16 to September 21 in the Sea Garden. The first screening is on August 16, starting at 8:00 pm, and the start will be given by the favorite comedian Dimitar Rachkov.
Open-air movie fans will be able to watch 12 cult films on six major weekends on the largest screen in the country with an area of over 100 square meters. The special initiative were chosen by the fans of "Burgasko" beer as part of the campaign "See the Stars", supported by the Municipality of Burgas.
For more than a month the residents of Burgas and the region had the opportunity to vote on the site www.burgasko.bg and choose the public campaign to be implemented in the city: construction of a mobile observatory in the Sea Garden, summer cinema in the Sea Garden or beach Central Beach Sports Complex. With 44% of the vote, fans decided the winner would be the free summer cinema, which will open this Friday, August 16th, in Primorsky Park, near the stop on Konstantin Velichkov Street.
The campaign was supported by the famous Burgas resident - actor Dimitar Rachkov, who participated in the clips of the initiative for social summer experiences. "Burgasko" created three design kenas that visualized the possibilities for fun and rewarding urban activities in the heat of the season.
Before each screening, viewers will be able to participate in an interactive game in which they will answer questions related to the upcoming movie through their smart devices. Awards in the short film with quiz questions will be free popcorn and collectible cans "Burgasko".
A constellation of Bulgarian and international actors such as Tom Hardy, Judd Low, Alexander Alexiev, Tom Hanks, Philip Avramov, Vin Diesel, Ivan Burnev and Michael Fassbender will welcome guests to the largest open-air cinema in Bulgaria with a capacity of 300 seats. Everyone will be able to watch these stars in the open in the company of the refreshing taste of Burgas.
Travel safely and comfortably with Transfer Bulgaria Group. Transfers from Bourgas Airport to the city.
24/7 Customer Service


Do you want to travel hassle free at sensible prices ?
If yes, book your airport transfer right now!
Customer support service operates 24/7!