Pink flamingos conquered a lake near Burgas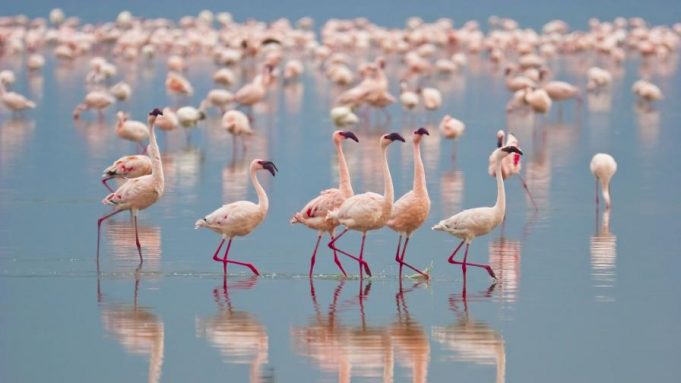 Burgas. Atanasovsko Lake has become an attractive place for close and distant (feathered) guests. Probably the most exciting are the numerous pink flamingo birds that find peace and security in the quiet pools in the northern part of the lake - the territory of the maintained reserve.
During the ornithological monitoring carried out in the framework of the Lagoon of Life project, a flock of 159 birds was observed, of which about 120 are adult specimens, colored pink and noisy. The birds feed and spend the night in one of the pools where they find their favorite food - salt crab and other aquatic invertebrates.
The young birds seem to be deliberately separated from the main flock and are "supervised" by several adult birds, much like human kindergartens. The birds are calm, not particularly impressed by the single human presence and do not fly away, they just enter the pools more. The flock is quite noisy, in contrast to the pink pelicans floating around it.
Visit the Bulgarian Black Sea coast together with Transfer Bulgaria Group. The best company in Bulgaria for transfers from Burgas Airport to the city and all resorts and cities along the Black Sea.
24/7 Customer Service


Do you want to travel hassle free at sensible prices ?
If yes, book your airport transfer right now!
Customer support service operates 24/7!