The biggest POP stars of the 90's gather for a spectacular festival in Burgas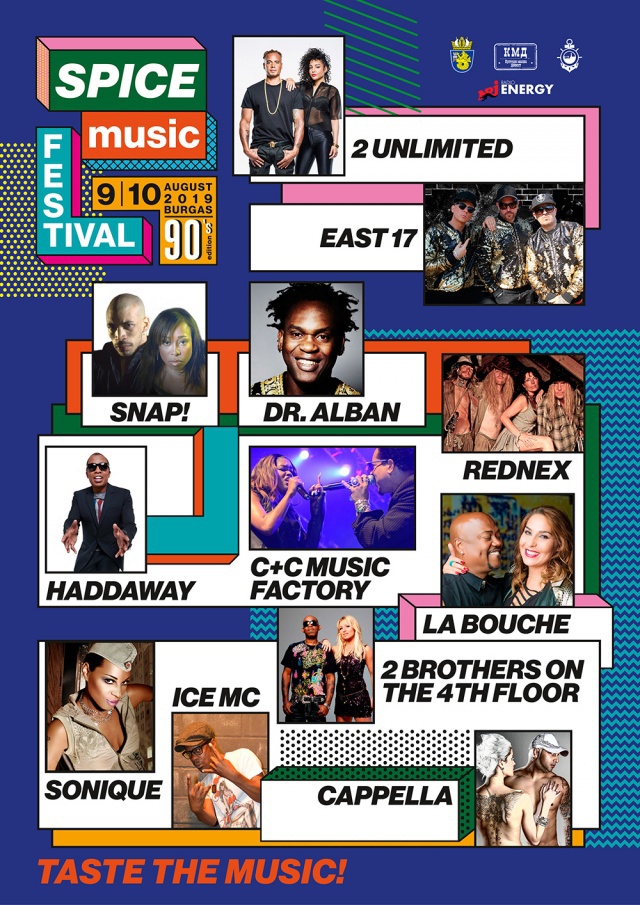 Once again Burgas Municipality will gather in the beautiful bay of our Black Sea city some of the biggest stars of the world pop and rock music. SPICE MUSIC FESTIVAL - 90's edition, as its name suggests, will be devoted to the music of the 90s of the last century. This will bring some of the biggest stars in Burgas. Among them are the names of: East 17, 2 Unlimited, REDNEX, Sonique, Dr. Alban, HADDAWAY, Cappella, La Bouche, SNAP !, 2 Brothers on the 4th floor, Ice MC and C + C MUSIC FACTORY.
Do not miss this golden opportunity to meet live with the greatest stars of your childhood or youth. Even if you have not been their fans, you have surely heard their huge hits that sounded from radio stations, discotheques, and MTV in the 90's all over the world.
On 9th and August 10th, 2019 SPICE MUSIC FESTIVAL - 90's edition - will explode on the unique scene in the Burgas bay. In addition to the 12 world-famous dance formations, the program will include well-known Bulgarian artists.
In addition, the organizers have prepared much other pleasant surprises - food and drink areas, entertainment venues and all this just meters from the sea.
SPICE Music Festival - 90's edition is organized by "Cultural Mass Media" Ltd, Burgas Municipality and Burgas Port - with the exclusive media support of Radio ENERGY - Number 1 Station for music from the 90s!
Tickets for the event are already marketed in the EasyPay network across the country and online at www.EpayGO.bg
Prices are one category:
25.02 - 31.03.2019 - 55 BGN for a two-day ticket
01.04 - 31.05.2019 - BGN 66 for a two-day ticket
01.06 - 31.07.2019 - 77 BGN for a two-day ticket
After 01.08.2019 - 88 BGN for a two-day ticket
One-day tickets will be available only on-site during the festival days.

For more info and news:
www.spicemusicfest.bg, as well as on the festival's FB page.
24/7 Customer Service


Do you want to travel hassle free at sensible prices ?
If yes, book your airport transfer right now!
Customer support service operates 24/7!