Bourgas celebrates the Chinese New Year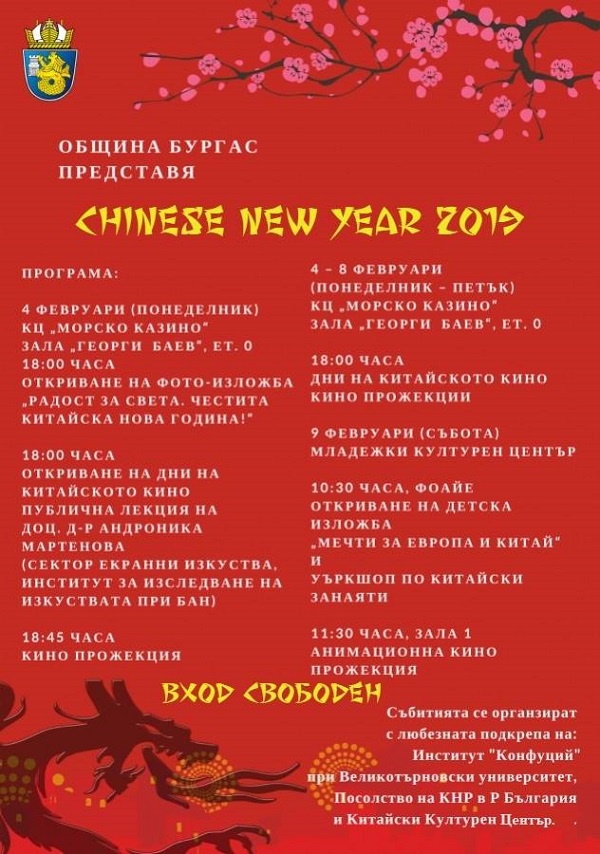 For a second consecutive year residents and guests of Burgas will have the chance to experience the biggest Chinese celebration. The Year of the Wild Boar, which will take place on February 5, will be appropriately marked with a series of events, including the tradition of "Chinese Cinema Days", the opening of two exhibitions and a thematic workshop.
The events will take place between 04 - 11 February in the Cultural Center "Sea Casino" and Youth Cultural Center - Burgas.
The official opening will be on the eve of a meeting of the year on Wild Boar - 04 February at 18:00. Hall "Georgi Baev" of KC "Casino," which will open the exhibition "Joy to the World. Happy Chinese New Year" .
Photographs present 60 special moments from China New Year celebrations across the five continents. As a celebration of nature, family and harmony, the Chinese New Year's values, expressing happiness, enthusiasm, friendship, belong not only to the Chinese, but to all peoples of the world. This is precisely the main purpose of the exhibition - to send greetings and preserve and deliver happiness, peace and prosperity to all people on earth.
The second exhibition, scheduled for the festive program, will present the unique talents of Burgas children who participated in the children's drawing contest "Dreams for Europe and China", in which the Municipality of Burgas received an invitation to participate in the summer of last year. More than 240 children sent their drawings, each of them being digitally sent to China for inclusion in the joint exhibition of Chinese and Bourgas children.
The exhibition will be open on 09 February (Saturday) at 10:30 in the lobby of the Youth Cultural Center - Burgas. Special surprises await every visitor, including a cultural program, a Chinese craftsworks workshop and animated film screening.
The events are organized with the kind support of the Embassy of the People's Republic of China in our country, the Chinese Cultural Center - Sofia and the "Confucius" Institute at "St. Cyril and St. Methodius University" of Veliko Tarnovo and will be free at entrance.
24/7 Customer Service


Do you want to travel hassle free at sensible prices ?
If yes, book your airport transfer right now!
Customer support service operates 24/7!