Bourgas Airport with new partners and destinations in 2019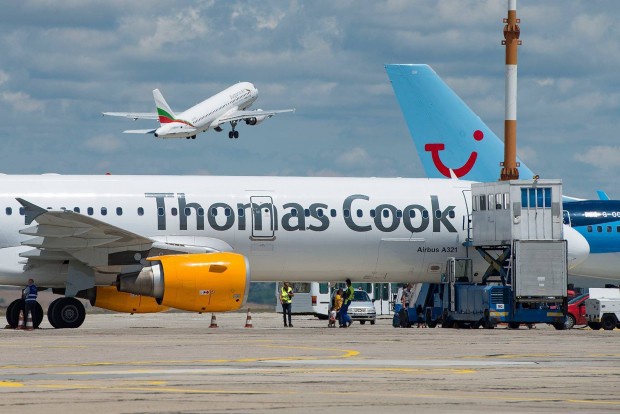 Last year, the airports in Varna and Bourgas welcomed 5.5 million passengers and more than 38,000 flights to 103 airlines. The growth of Fraport Bulgaria airports (concessionaire of our two biggest sea airports) was 13% and for the last 3 years the traffic of both airports increased by 50% to 60%.
In 2018 at Varna Airport, most passengers arrived from Germany (596,930), Bulgaria (287,458), Russia (226,608), Poland (193,337), Great Britain (151,626). Followed by Israel (110 226), Austria (107 822), Turkey (84 311), the Czech Republic (66 228) and Belgium (59 979). For those departing from Varna, leading destinations were Sofia, Moscow, London, Tel Aviv and Vienna.
The new destinations last year were 6 and the new airlines 10. The development will continue this year after Wizz Air announced in December that it was based on a second airplane in the sea capital. As a result, the low-cost airline will update the frequency of some of its eight current destinations, and from July will add 6 new ones: Paris, Liverpool, Copenhagen, Hamburg, Cologne and Berlin.
Another good news for 2019 comes from the Polish national airline LOT, which starts on June 9 to offer regular flights between Varna and Warsaw. The service will be made once a week, on Sundays.
Although seasonality is a challenge for the concessionaire at sea airports, Fraport has achieved growth outside the season in Bourgas last year. For example, Burgas Airport marked a passenger growth of 102% in October, 17% in November and 14% in December, compared with 2017 years.
In 2018 at the airport in Bourgas the most passengers arrived from Russia (567 213), Great Britain (513 974), Germany (500 213), Poland (461 836), Czech Republic (276 642), Israel (145 557) Slovakia (114 920), Norway (71 976), Belarus (67 691) and Denmark (51 351). For those departing from Bourgas, leading destinations were Moscow, London, Prague, Tel Aviv and Katowice.
The new destinations last year were 14 and the new airlines-10. Additional destinations are also expected in 2019. The low-cost British airline Jet2.com, for example, announced that in May 2019 Burgas will connect nine airports in the UK: Belfast International , Birmingham, East Midlands, Edinburgh, Glasgow, Leeds Bradford, London Stansted, Manchester and Newcastle.
The development of the Black Sea airports will continue with new investments by Fraport Bulgaria in 2019. The project for the expansion and rehabilitation of the platform for aircraft. In the second half of this year, the design of a new Fire Safety Service building will begin as well as the rehabilitation project on the taxiway "Eco". Both projects are expected to be deployed in 2020-2021.
Also, in 2019 on the territory of Bourgas Airport will continue the implementation of the projects related to the expansion and rehabilitation of the platform, expansion of the passenger terminal as well as the construction of the second extension of the parking zone.
"We continue to invest to ensure the best conditions not only for all carriers but also for airport visitors.In 2018, we have made efforts to improve the stay and satisfaction of passengers and offer an even greater variety of services. Like example, the only official stores of Victoria Secret. We will continue to work in the same direction in 2019, "said the executive director of the concession firm, Ulrich Heppe.
During the first 12 years of the concession, the "Fraport Bulgaria" has invested 390 million leva. As a result, Black Sea airports boast that meet the highest European safety standards according to EASA - European Aviation Safety Agency. The Agency standardizes activities of airports in the areas of safety and resource efficiency.
Transfer Bulgaria Group offers transfers from Burgas to Sunny Beach and other resorts on the Bulgarian Black Sea coast at preferential rates for travelers with Thomas Cook, Jet2.com and all British tour operators.
24/7 Customer Service
+359 878-858-974
+44 20 8123 1485


Do you want to travel hassle free at sensible prices ?
If yes, book your airport transfer right now!
+359 878-858-974
+44 20 8123 1485
Customer support service operates 24/7!