December 28 - Bansko: Christmas concert of the great Vasil Naydenov!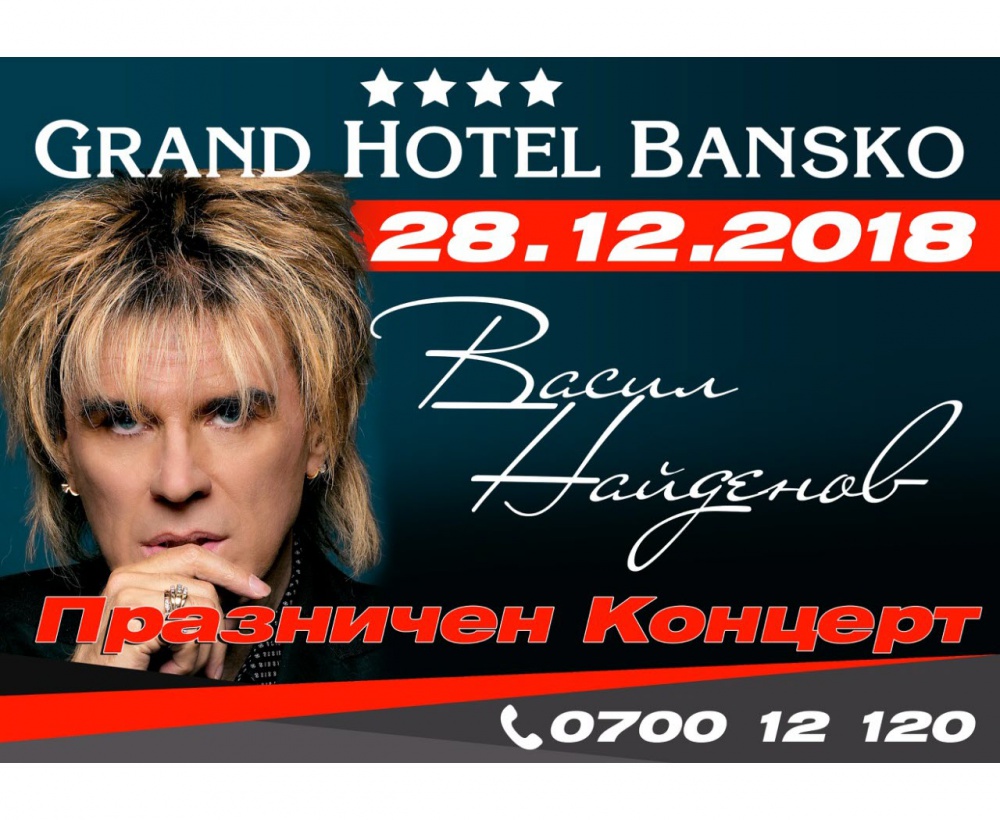 If on December 28th you are in Bansko, do not miss the everlasting songs of Bulgaria with the legend Vasil Naydenov! The event will start at 20 o'clock in the Event Hall of Grand Hotel Bansko.
The legend of Vassil Naydenov began in 1979 when he won First prize at the "Golden Orpheus" Festival - the most prestigious prize for pop music in Bulgaria. And the song from the "Adaptation" was proclaimed "Melody of the Year".
It is interesting to know that Vasil Naydenov has worked as a pianist and vocalist for almost ten years before starting his solo career. He was a member of "Golden Strings", he briefly participated in the orchestra of Biser Kirov, as well as in "Diana Express". The song "Sineva" makes him famous as a singer and brings him the first nickname - Vasko Sinevata. The last group before the beginning of his solo career is "Tangra".
In the 80's Vassil Naydenov continues to win awards from prestigious music competitions in Bulgaria and abroad. Wins again First Prize at the Golden Orpheus (1981). Second Prize at Schlagerfestal (Dresden, 1981). Second Prize at the Gala Festival in Havana (1982). He is also present at the festivals in Sopot, Poland and Knox, Belgium. He has been repeatedly singled out as a singer of the year in a poll of radio broadcast "Music ladder".
He is extremely popular in Russia (USSR) and Germany (GDR).
After the democratic changes in Bulgaria remains extremely loved by music fans of all ages. Each of his concerts filled the halls wherever he went. Every new song turns into a hit.
Do not miss again to hear the eternal hits of the great Vasil Naydenov:"Po pŭrvi petli", "Telefonna lyubov", "Sbogom, kazakh", "Ostani", "Chudo" etc. Location: Grand Hotel Bansko in ski resort №1 of Bulgaria, Bansko. Date: December 28! Start time: 20 hours!
Entrance fee: BGN 50.00.
Tel. for reservation: 0700 - 12 - 120
24/7 Customer Service


Do you want to travel hassle free at sensible prices ?
If yes, book your airport transfer right now!
Customer support service operates 24/7!