Taxi from Sofia Airport to Bansko
Taxi from Sofia Airport to Bansko: how quickly can get to the ski resort
A taxi from Sofia Airport to the magnificent resort of Bansko - the fastest and most convenient transfer option in Bulgaria. The all-season ski resort in the Pirin Mountains beckons with wonderful landscapes, magnificent nature and a huge selection of slopes for lovers of outdoor activities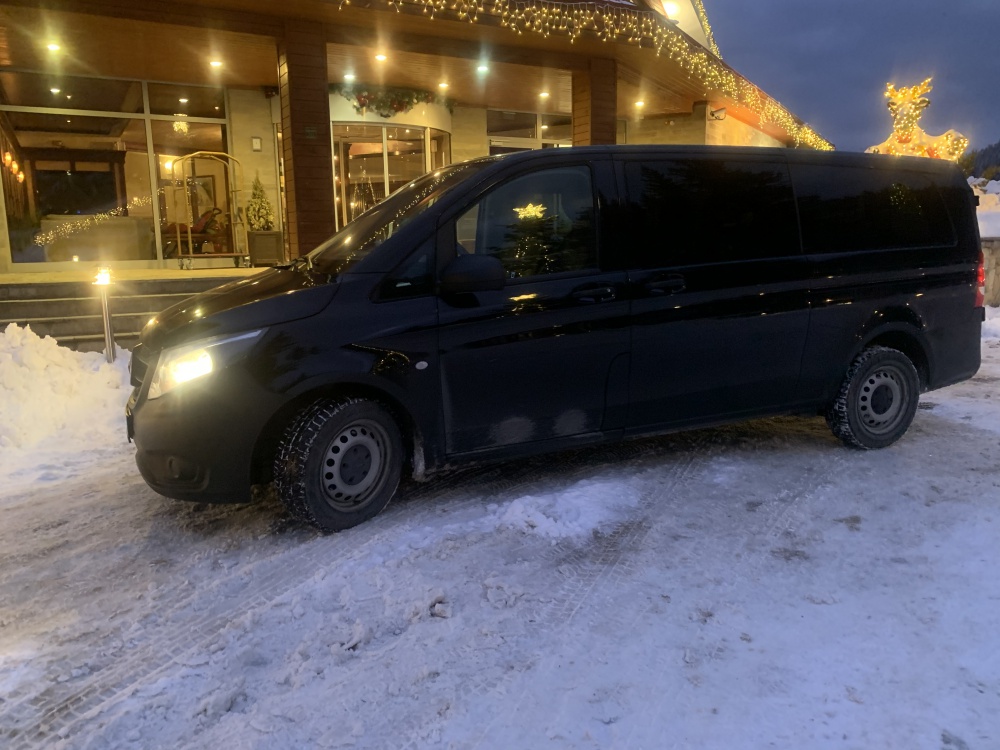 Taxi from Sofia Airport to Bansko
The most convenient way to get to Bansko is from the capital's airport - it is faster and more convenient than from Varna or Burgas, located almost on the Black Sea coast, but you just need to choose the right transport. The Transfer Bulgaria company undertakes to help in this matter, offering an excellent choice of taxis from its own fleet - from passenger cars to spacious buses.
Benefits of ordering a taxi from Sofia Airport to Bansko
Since Bansko is a ski resort, many tourists come here with their own equipment. This means that in addition to the usual things in a suitcase or bag, you need to deliver a snowboard, and alpine skis, and all the accompanying equipment to the place of rest. The volume of things is quite impressive. The number of pieces of luggage makes it difficult to travel by public transport, especially since the journey to the resort takes a long time. Cooperation with private cars is also not always convenient, as most drivers deliberately inflate the price when they see tourists with bulky luggage, understanding the difficulties of finding transport.
To solve all the difficulties, booking a taxi in advance will help – pre booked vehicle with big trunk.
Benefits of a transfer from Sofia airport to Bansko:
Our vehicle will be exactly on time at the airport;
no issue if you come with lots of luggage;
possibility of changing the route;
quick ride on most convinient road;
Taxi from Transfer Bulgaria is the best transfer from Sofia airport to Bansko
In addition to the listed benefits of booking a taxi, our company additionally guarantees:
clean and comfortable transport - our own fleet of vehicles allows us to fully take care of each car;
meeting at the time of arrival - the driver with a sign will be waiting in the arrival hall and you will not have to look for him;
punctual meeting even if the flight is delayed - tracking the arrival on the online scoreboard allows cars to arrive on time;
English-speaking staff - complete absence of a language barrier;
convenient payment options - online when booking a taxi or paying with the driver in local currency, dollars or euros;
possibility of ordering a child seat - for a child of any age.
A number of services are provided free of charge - selection of a car for the client's requirements, current changes in booking conditions, waiting at the airport. All this is included in the cost of the service and is not paid additionally.
How to book a taxi (transfer) to Bansko from Sofia airport
The optimal time for pre-booking is a day or more before the transfer date. But Transfer Bulgaria always meets its passengers halfway and tries to find the best solution for everyone, even with an emergency call.
You can order a taxi in Bansko in any convenient way:
online - through the contact form or a round-the-clock chat on the site;
telephone - call-center operators receive calls constantly and are ready to place an order for a taxi at any time of the day;
instant messengers - fast communication via Viber and WhatsApp makes communication easier and faster.
After submitting your reservation - agreeing on the type of car, the capacity of the trunk, the number of passengers, the time of arrival and resolving the issue with payment - the company manager sends a voucher to the client's e-mail, confirming the fact that the car was delivered at the right time. Receiving a voucher - a guarantee of meeting you at Sofia airport and safe transfer to Bansko! !
Price for a taxi transfer from Sofia Airport to Bansko
24/7 Customer Service
+359 878-858-974
+44 20 8123 1485


Do you want to travel hassle free at sensible prices ?
If yes, book your airport transfer right now!
+359 878-858-974
+44 20 8123 1485
Customer support service operates 24/7!