How Far is Sofia from Sunny Beach
How far is Sofia from Sunny Beach (by road, railroad and air)?
Sunny Beach is a shiny Black Sea resort with international fame. It`s located in Bulgaria, which is a member-state of the EU. The capital of Bulgaria is the city of Sofia with a population of 2 million people. Sofia is a modern European capital that provides all possible modes of transport from the capital to any other part of the country.
How far is Sofia from Sunny Beach by road and railroad?
The distance from Sofia to Sunny Beach (road network) is 415 km (257 miles). By car this distance is covered in 4 hours and 30 minutes. By train you will arrive in 5.1 hours. But this is the duration of the trip to Bourgas station. From there you will have to rent a car or take a bus to Sunny Beach. If you choose to travel the entire distance from Sofia to Sunny Beach by bus, it will take you about 7 hours.
How far is Sofia from Sunny Beach by air?
In a straight line the distance between Sofia and Sunny Beach is 359 km (215 miles). So the fastest way to get this distance is by air. The nearest airport is in Bourgas. From Sofia to Bourgas the journey by air takes 24 minutes. From Bourgas Airport to Sunny Beach the distance is 27 km. By car the journey will take you about 16-17 minutes. Or the whole trip from Sofia to Bourgas by plane and then by car from Bourgas Airport to Sunny Beach will take you 41 minutes.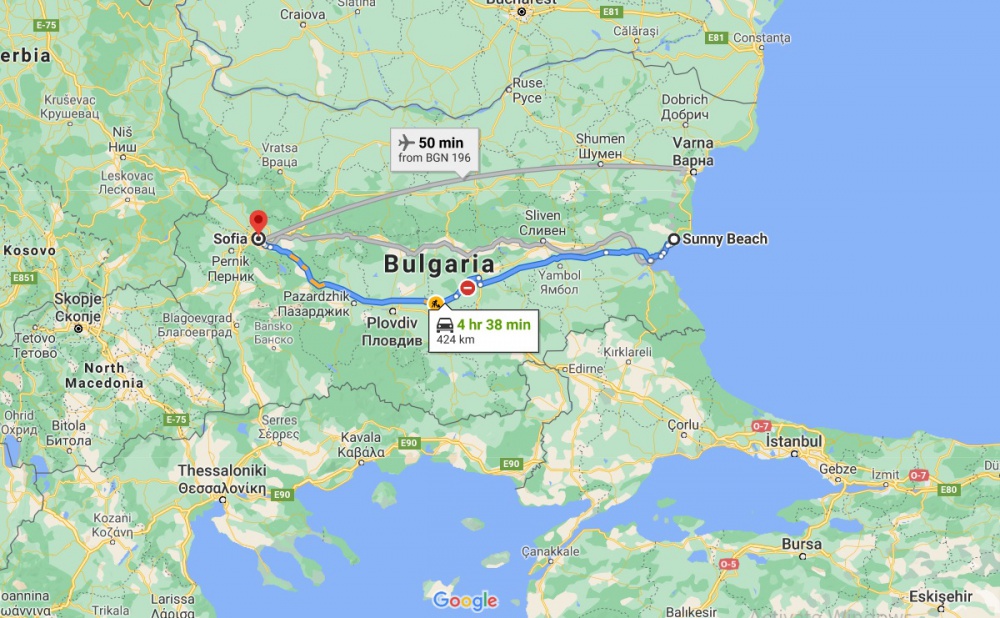 Travel in comfort and security
If you want to arrive quickly, comfortably and safely from Sofia Airport to Sunny Beach (or from Bourgas Airport to Sunny Beach), we recommend that you take advantage of the services of Transfer Bulgaria Group. The company has an extensive fleet of luxury limousines and cars of renowned brands. If you are traveling with your whole family or friends, you could book a van. Your comfort and safety are guaranteed by the company's experienced drivers. Friendly attitude and smiling employees are a trademark of the company.
Transfer Bulgaria Group specializes in providing airport transfers from any Bulgarian airport to your desired destination. All cars of the company have air conditioning and all modern amenities for a comfortable trip.
Why visit Sunny Beach?
Sunny Beach is located almost in the middle of the Bulgarian Riviera. Between the two largest cities on the Bulgarian Black Sea coast - Varna and Burgas. Sunny Beach is a great seaside resort with international fame. And for many years it retains its status of the most visited and attractive Black Sea resort in Bulgaria.
Sunny Beach provides its visitors with hundreds of hotels, modern clubs, various restaurants, cult discos and bars. The resort has also a summer theater, cinema, shopping malls, attractions and children's play areas. There are organized excursions with interesting routes by sea, land and air.
What entertainment can be found in Sunny Beach?
A park environment has been built within the resort, and the opportunities for entertainment and sports are innumerable. You will be satisfied if you are a fan of bowling, horseback riding, tennis, mini golf. If you wish, you can also practice water skiing and surfing. The resort has a large number of outdoor and indoor pools. Every year various festivals (film and theater), competitions, beach competitions, sports events, fashion shows and beauty contests are held here.
A large number of restaurants and nightclubs in the resort organize karaoke evenings. In addition, the biggest Bulgarian music and show stars, as well as current international stars, often have participations in the big restaurants of the resort.
For fans of archeology and history, there are also countless opportunities for entertainment. The architectural and historical complex Nessebar is part of the 100 national tourist sites and is located near Sunny Beach. Excursions and visits to the most important architectural, historical and archeological landmarks on the Bulgarian Black Sea coast are organized daily.
24/7 Customer Service


Do you want to travel hassle free at sensible prices ?
If yes, book your airport transfer right now!
Customer support service operates 24/7!